Trail(s): Panthertown Valley, North Carolina
North Carolina Biking, Day Hiking, Camping, Backpacking, Horseback Riding, Mountain Biking
City/ Region: Nantahala National Forest – Cashiers, NC – Western North Carolina
Difficulty: Easy to Intermediate  ( Hiking )
Distance: Panthertown Loop: 5.5 miles
Overall Rating: 4.5 out of 5
Camping: There is Backcountry Primitive Camping anywhere in the area
Thoughts: Panthertown Valley is a forest bowl located outside of Cashiers, NC in the Nantahala Forest that many outdoor- back country enthusiasts like to frequent. Rock Climbers, Hikers , Backpackers and Fly Fishers can feed the monkey in this 10,000 acre area. There is nearly 40 miles of trails where you can connect a awesome route. There is a big concentration of waterfalls and you can go no wrong no matter what route you take. There are two main trail heads on the eastern and western part of the valley. At the time of this post we did a over night backpacking trip from the eastern side.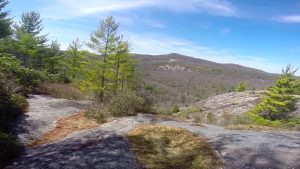 A great loop to take is from the western ( Salt Rock Gap) parking area:
Start the trek through  mountain laurel and rhododendron thickets on the Black Rock Trail and Overlook to Power Line. Navigate to Little Green Trail to check out Schoolhouse Falls. Connect Macs Gap or Big Green Trail back to the trail head. Watch out for side trails because there are a plethora of them twisting in and out of the main trails.
Camping is permitted in any part of the valley as long as you do set up 100 ft from a water source and the trails. We backpacked in the Devil's Elbow area and set up our camp in this awesome, heaven of a campsite near to Riding Ford Falls.
Directions (Cold Mountain Gap Trail head…Eastern Parking Area)
Map: